Miscelâneas
Una Buena Ciudad

Français

English
Deutsch

Italiano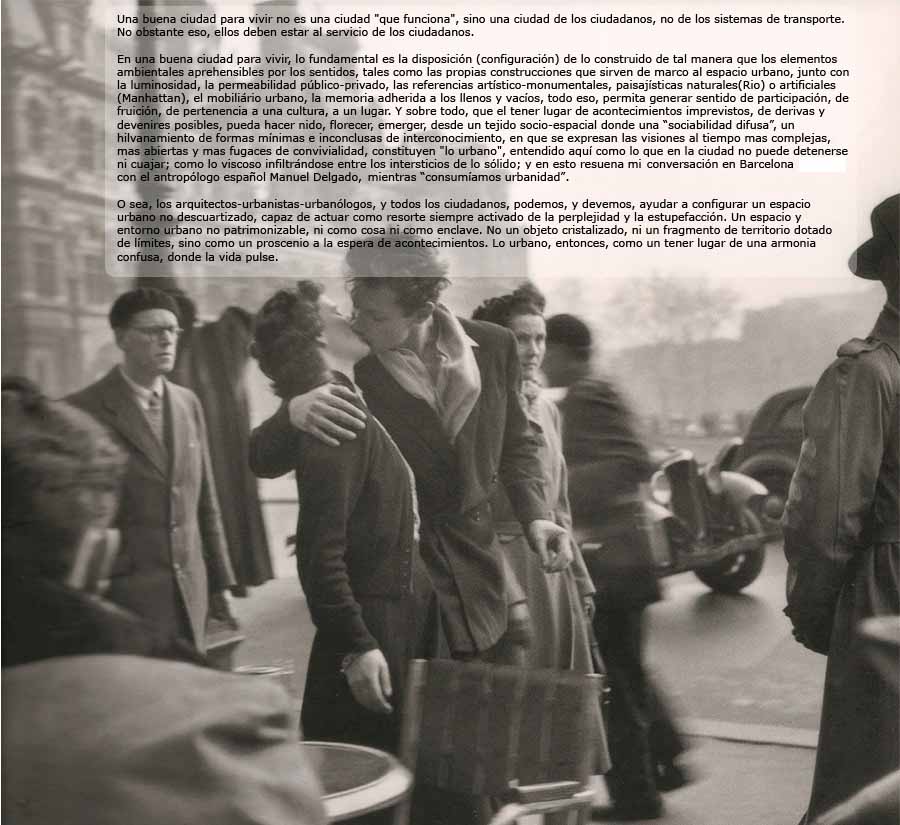 Fotografia de Robert Doisneau, 1950
Une ville agréable à vivre n'est pas une ville « qui fonctionne», mais plutôt une ville des citoyens/citadins, et non uniquement des systèmes de transports.
Toutefois, ils doivent être au service des citoyens. / à leur service.
Dans une belle ville à vivre, l'essentiel est la disposition (configuration) du bâti, réalisée de telle manière à ce que les éléments environnementaux soient appréhendés par les sens, comme le sont les propres constructions qui servent de marque à l'espace urbain, associées à la luminosité, la perméabilité du publique-privé, les références artistico-monumentales, paysagistiques-naturelles (Rio) ou paysagistiques-artificielles (Manhattan), le mobilier urbain, la mémoire adhérente aux pleins et aux vides. Tout cela permettant de générer un sens de participation, de délectation, d'appartenance à une culture, à un lieu.
Et surtout, que l'avoir lieu d'évènements imprévus, de dérives et de devenirs possibles, peut faire un nid, fleurir, émerger, depuis un tissu socio-spacial où une « sociabilité diffuse », une imbrication de formes minimales et inachevées de l'interconnaissance, dans lesquelles s'expriment des visions en même temps plus complexes, plus ouvertes et plus fugaces de convivialités, constituent « l'urbain », entendu ici comme ce que la ville ne peut pas détenir, telle la viscosité infiltrée entre les interstices du solide. Et en ceci résonne ma conversation à Barcelone avec l'anthropologue espagnol Manuel Delgado, tandis que nous « consumions l'urbanité ».
Simplement, les architectes urbanistes urbanologues, et tous les citoyens, nous pouvons, et nous devons, aider à configurer un espace urbain non désarticulé, capable d'agir comme un ressort toujours activé de perplexité et de stupéfaction. Un espace et un environnement urbain non patrimonisables, ni comme chose, non plus comme enclave. Il ne doit pas être un objet cristallisé, ni un fragment de territoire doté de limites, mais plutôt comme l'avant-scène de l'attente d'évènement.
L'urbain, alors, en tant qu'un « avoir lieu » d'une harmonie confuse, où la vie pulse.

Jorge Mario Jáuregui
Traduit par Laura Croisy
The most important thing in a good city to live is the disposition (configuration) of the frame, in such a way that environmental factors are apprehended by the senses as are the buildings that mark urban space associated to the brightness, the permeability among the public and the private, the art monuments, natural (Rio) or artificial (Manhattan) landscapes, street furniture, the history stick to the full and empty spaces. All those things help generating a sense of participation, enjoyment and relevance to a culture, to a place. And, above all, the possibility of living unforeseen events, by possible deriving and inferences being able to create a nest, to blossom, to emerge from a socio-spatial condition on which a diffuse sociability, a weaving of interconnected unconcluding minimum forms of knowledge, where complexes, opened and fleeting conviviality visions are expressed, is part of "the urban", seen as a city that can`t be selled, like a viscous material penetrating a solid one.
This echoes a dialogue with Manuel Delgado, a Spanish anthropologist, in Barcelona, while we`d been "consuming urbanity".
Finally, we, architects and urban planners, and every citizen, need and are able to set up a urban space without dismantled areas, capable of permanently keeping us perplexed and thunderstruck. An urconvertible urban space and its neighborhood, neither as a possession, nor an enclave. It should not be a crystallized object, nor a fragment from a limited territory, but, rather as a scenario where dynamics events take place.
The urban can be seen, then, as the place where confusing harmony prevails, where life pulses.
Jorge Mario Jáuregui
Translated by José Mauro Mesquita
Eine lebenswerte Stadt nicht die funktionelle Stadt, sondern eine Stadt der Bürger, statt der Transportsysteme. Diese müssen dem Bürger jedoch trotz allem zur Verfügung stehen. Das Wichtigste an einer lebenswerten Stadt ist die Anordnung (Gestaltung) der gebauten Umwelt in einer Art und Weise, dass die durch die Umwelt erzeugten Sinnesreize wie die Gebäude selbst im Zusammenspiel mit Ausstrahlungskraft, öffenltich-privater Durchlässigkeit, künstlerisch- monumentaler Bezugspunkte, landschaftlich (Rio) oder künstlich (Manhatten), der Geschichte der bebauten und unbebauten Flächen in der Stadt und der Straßenmöblierung den Rahmen des städtischen Raumes bilden. Dies alles trägt zu Partizipation, Freude und Zugehörigkeit zu einer Kultur und einem Ort bei. Vor Allem aber das Stattfinden von unvorhersehbaren Ereignissen, möglichen Abtriftungen und Geschehnissen, die Möglichkeit ein Nest zu bauen, aufzublühen, aus einem sozial- räumlichen Gewebe aufzutauchen, eine diffuse Geselligkeit, eine Verwebung von ineinandergreifenden, unvollendeten Formen des Wissens, in denen die kompelexesten, offensten und flüchtigsten Visonen der Geselligkeit ausgedrückt werden, bilden "die Urbanität" im Sinne von Stadt, die wie eine dickflüssige Masse, die in Zwischenräume fließt nicht eindicken und zum Stillstand kommen kann. Dies spiegelt meine jüngste Konversation mit dem spanischen Anthropologen Manuel Delgado in Barcelona wider, als wir zusammen "Urbanität konsumierten."
Folgendermaßen können und müssen Architekten, Stadtplaner und alle Bürger zur Gestaltung eines zusammenhängenden urbanen Raumes beitragen, der uns stets erstaunen und in Sprachlosigkeit versetzen kann. Ein urbaner Raum und eine urbane Umgebung, die weder Sache, Besitz noch Enklave ist, weder ein kristallisiertes Objekt, noch ein begrenztes Gebiet, sondern ein Proszenium in Erwartung auf Geschehnisse. Das städtische Raum ist in diesem Sinne ein Schauplatz einer konfusen Harmonie, in der das Leben pulsiert.
Jorge Mario Jáuregui
Traduktion Frederik Lux
Una buona città per vivere non né una città "che funziona", una città dei sistemi di trasporto, ma una città dei cittadini. Nonostante ciò, questi i primi devono essere al servizio dei secondi.
In una buona città per vivere, la cosa fondamentale é la disposizione (configurazione) del costruito, in maniera tale che gli elementi ambientali percepiti dai sensi, come le costruzioni che servono da cornice allo spazio urbano insieme con la luminosità, la permeabilità pubblico-privato, i riferimenti artistico monumentali, paesaggistici naturali (Rio de Janeiro) o artificiali (Manhattan), l´arredo urbano, la memoria insita nei pieni e nei vuoti, tutto questo permettendo di generare un sentimento di partecipazione, di fruizione, di appartenenza a una cultura, a un luogo. E soprattutto il luogo dove avvenimenti imprevisti, derive e divenire possibili possono fare il nido, fiorire, emergere da un tessuto socio-spaziale dove una "sociabilità diffusa", un´imbastitura di forme minime e non concluse di interconoscenza nel quale si esprimono le visioni allo stesso tempo più complesse, più aperte e più fugaci della convivialità, costituisce "l´urbano", inteso qui come ciò che nella città non si può trattenere né coagulare, come una sostanza viscosa che si infiltra negli interstizi di un solido; questo mi ricorda una mia conversazione a Barcellona con l´antropologo spagnolo Manuel Delgado, mentre "consumavamo urbanità".
Ossia, gli architetti-urbanisti-urbanologi e tutti i cittadini, possiamo e dobbiamo aiutare a configurare uno spazio urbano non smembrato, capace di far scattare come una molla sempre attiva la perplessità e la stupefazione, uno spazio e un intorno urbano non acquisibili come patrimonio, né come cosa né come enclave, non un oggetto cristallizzato, né un frammento di territorio dotato di limiti ma una scena che aspetta degli avvenimenti. L´urbano, quindi, come lo svolgersi di un´armonia confusa, dove pulsa la vita.
Jorge Mario Jáuregui
Traduzione a cura di Emilio Rapanà